Welcome from Alexander Financial Services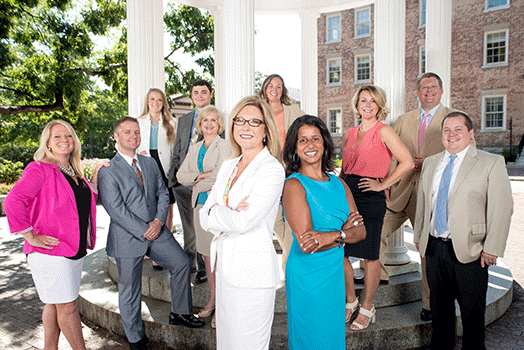 Alexander Financial Services specializes in holistic financial planning, helping clients accumulate assets with distribution in mind. To learn more about how we can help guide you down the path to achieving your financial goals, please click on the Background and Team tabs.
---
Delynn Alexander featured in USA Today
Delynn Alexander was featured in the March 26, 2018 USA Today article "How to Figure Out Elder Care for Your Aging Parent" where she shared her insights and planning expertise. By spending time with clients and understanding their specific needs, she and her team at Alexander Financial Services have helped clients find the resources they need and rearrange their budget to deal with the new reality. Delynn has seen firsthand that "having a good financial plan will give you the confidence to be able to care for parents and know that you're going to be OK".
---
2018 Celebration of Excellence
Alexander Financial Services was honored at the 2018 Casino Royale themed Celebration of Excellence on Friday, March 2nd at the Renaissance North Hills Hotel in Raleigh. The Financial Security Creation Award recognizes our firm's top financial advisors who help their clients achieve their goals through balanced financial plans and a total needs approach. We were honored to place in the top 27 but being recognized for helping our clients achieve financial security is the best reward!
---
Delynn Alexander Receives 2018 Women in Business Award
On February 21, the Triangle Business Journal announced the winners of the 2018 Women in Business Awards including Northwestern Mutual Financial Advisor Delynn Alexander.
The Women in Business Awards program recognizes Triangle women who have proven to be dynamic and outstanding leaders with established track records of significant accomplishments in business and/or community service. The judges, a mixture of Triangle business execs and TBJ editorial leadership, pored through more than 150 entries to come up with this year's crop of winners.
"This year's class of Women in Business Awards winners represents a vast array of knowledge and influence that spans across the entire Triangle and beyond," says TBJ Publisher Jason Christie. "We are extremely excited to be able to honor these successful women."
This year's winners will be recognized at an awards luncheon March 23 at Prestonwood Country Club in Cary and TBJ will profile the winners in a special section that will be published in the March 23 subscriber edition.
---
Delynn Alexander Speaks at NM Southern Regional Meeting
On February 2, Delynn Alexander spoke on a panel during Northwestern Mutual's Southern Regional Meeting in Dallas, TX. Delynn shared her thoughts on how the new Tax Reform Act may impact retirement distribution income planning. The panel identified unique retirement distribution planning solutions and holistic planning ideas to help clients maximize their benefits while achieving tax efficiency in this dynamically changing tax environment.
---
Delynn Alexander and Reena Bland Speak at NM Employee Town Hall
On September 28, Northwestern Mutual's home office in Milwaukee, WI hosted a Special Edition Employee Town Hall to vividly paint the picture of where NM is headed by sharing excitement and insight into the company's strategy. Delynn and Reena were invited to speak on a few of their key strategies which included creating a distinctive client experience by leveraging technology to better serve their client's needs. This event also featured John Schlifske, Chairman and CEO of Northwestern Mutual and Keynote Speaker, Josh Linkner.
---
Delynn Alexander Speaks at Women President's Organization Event
On September 19, Delynn Alexander was invited to speak at the NC Chapter of the Women President's Organization, an international organization for women who own and run multimillion-dollar businesses. Delynn spoke about her role as Wealth Management Advisor and how she and her team at Alexander Financial Services specialize in holistic financial planning, helping clients accumulate assets with distribution in mind. She also talked about her partnership with Northwestern Mutual and how together they make life changing impact through personal relationships, world class financial solutions and a commitment to service.
---
Delynn Alexander and Reena Bland Represent Alexander Financial Services at AALU Annual Meeting
On April 30 - May 2, Delynn Alexander and Reena Bland traveled to Washington, D.C. to represent Alexander Financial Services at the 2017 Annual Meeting of the Association for Advanced Life Underwriting (AALU). For 60 years, AALU has been the trusted influential voice for the life insurance community in Washington, D.C. AALU members have the opportunity to build strong, personal relationships with key Congressional leaders, network with the most successful professionals in the life insurance markets, and learn from peers and recognized experts in order to continue to support and advocate for their clients at the highest levels.

---
Delynn Alexander Featured in Triangle and Dallas Business Journals
Delynn Dolan Alexander, Field Director and Wealth Management Advisor based in Durham, NC, is the first woman at Northwestern Mutual to ever achieve the "$1 million/$1 million" distinction, with $1 million in both risk and investment production. Delynn Alexander, Reena Bland and the Alexander Financial Services team worked hard to reach this exceptional milestone and stand as an example of a balanced, integrated practice dedicated to developing tailored financial plans for both families and businesses that stand the test of time.
---
Our Commitment to Excellence
At Alexander Financial Services, we take our responsibility to our clients seriously, knowing that most people come to us with complex situations that can seem overwhelming. We take the time to establish a relationship with you, listing your goals and objectives, identifying your assets and liabilities, and comparing what you have to what you want, which enables us to provide you with risk protection and investment solutions you need to make the right choices.
For our team, that partnership is built on one core value: helping people. That's what we've been committed to for the past 25 years with Northwestern Mutual, and that's what our clients have come to expect.
Think of Alexander Financial Services as your partner – a partner who is with you every step of the way as you make the most important decisions of your life.
Delynn Alexander's mother, Elaine Dolan, CLU®, ChFC®, had also been a Northwestern Mutual Financial Representative since 1981. After 30 years of serving her clients, Elaine has retired and chosen to keep her business in the family - Delynn and her team are proud to continue providing the same great service and guidance to Elaine's clients as they move forward with their financial goals.
---
Recommended Articles
Economic and Market Commentary
Please click on the links below to read economic and market commentaries:
Long-Term Care Planning
Long-Term Care: Costs, Caregiving, And Choices
Preparing for the possibility that you might require care for an extended period of time as a result of a chronic illness, a disabling condition such as paralysis, or cognitive impairment (e.g. dementia). Read the article.

What is Long-Term Care and What Are Your Options?
Click here to learn more.

How Much Would a Future Long-Term Care Event Cost?
Use the LTC Cost Calculator to better understand the potential cost of a long-term care event and how it can vary by age, where the care takes place and the length of care.

---
Northwestern Mutual In The News:
For the most up-to-date news on the company, please visit our News Room.